Papuan man with body markings [aboard ship], Papua New Guinea, 1928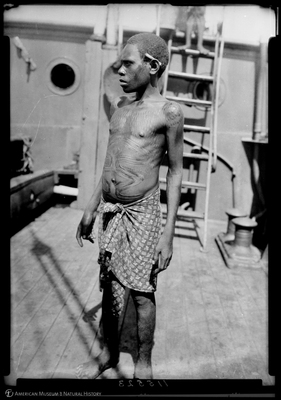 Collection
Citation
"Papuan man with body markings [aboard ship], Papua New Guinea, 1928,"
Research Library | Digital Special Collections
, accessed January 20, 2019,
http://lbry-web-007.amnh.org/digital/index.php/items/show/90580
.
Papuan man with body markings [aboard ship], Papua New Guinea, 1928
[Milne Bay, Papua New Guinea]
Milne Bay Province, where the expedition waited to get the France repaired.
Information on rights available at the repository.
Hamlin, Hannibal, 1904-1982
Item Relations
This item has no relations.