Franz Boas and George Hunt with Kwakwaka'wakw group in front of Northwest Coast Indian House as it appeared in an exhibit at the Chicago World's Fair, also known as the Chicago Columbian Exposition, 1893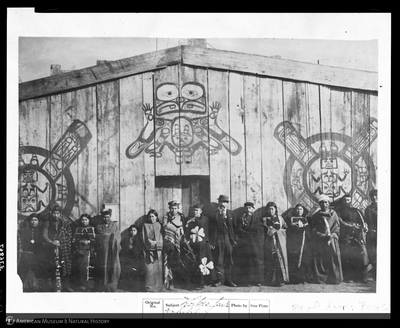 Collection
Citation
"Franz Boas and George Hunt with Kwakwaka'wakw group in front of Northwest Coast Indian House as it appeared in an exhibit at the Chicago World's Fair, also known as the Chicago Columbian Exposition, 1893,"
Research Library | Digital Special Collections
, accessed January 22, 2019,
http://lbry-web-007.amnh.org/digital/index.php/items/show/90600
.
Franz Boas and George Hunt with Kwakwaka'wakw group in front of Northwest Coast Indian House as it appeared in an exhibit at the Chicago World's Fair, also known as the Chicago Columbian Exposition, 1893
Chicago, Cook county, Illinois, United States
Information on rights available at the repository.
Item Relations
This item has no relations.