Tyrannosaurus Rex skeleton, anterior oblique, November, 1915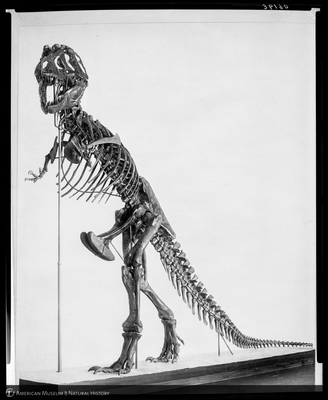 Collection
Citation
"Tyrannosaurus Rex skeleton, anterior oblique, November, 1915,"
AMNH Research Library | Digital Special Collections
, accessed May 24, 2019,
http://lbry-web-007.amnh.org/digital/index.php/items/show/90656
.
Tyrannosaurus Rex skeleton, anterior oblique, November, 1915
[New York, New York, United States]
Typed on negative sleeve: "Incorrect reconstruction model, should be 2 fingered rather than 3 fingered. Per note addressed to Mr. Elwood Logan, found in files, 1/80"
American Museum of Natural History Library
Information on rights available at the repository.
American Museum of Natural History