Eobasileus, painting by Charles Knight, 1896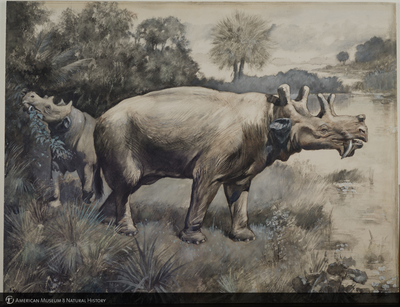 Collection
Citation
"Eobasileus, painting by Charles Knight, 1896,"
AMNH Research Library | Digital Special Collections
, accessed May 24, 2019,
http://lbry-web-007.amnh.org/digital/index.php/items/show/90719
.
Eobasileus, painting by Charles Knight, 1896
1 painting : gouache on paper ; 49 x 65 cm. In wooden frame, 71 x 86 x 4 cm. Signed and dated "96" at lower left. Two rhinoceros-like mammals with six horns and large canines, one grazing in background, the other standing in profile view in center. The Eobasileus is closely related to Uintatherium.
Czerkas, S.M. and Glut, D.F. Dinosaurs, mammoths, and cavemen: the art of Charles R. Knight. New York: Dutton, 1982. p. 49
Osborn, H.F. The age of mammals. New York: MacMillan, 1921. p. 166
American Museum of Natural History Library
Information on rights available at the repository.
Knight, Charles Robert, 1874-1953
American Museum of Natural History