Woolly mammoth and hunter, painting by Charles Knight, 1909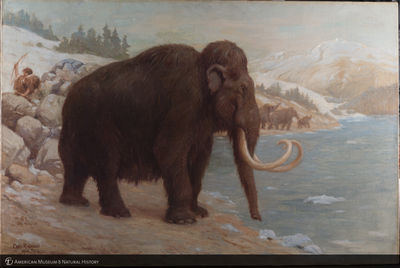 Collection
Citation
"Woolly mammoth and hunter, painting by Charles Knight, 1909,"
AMNH Research Library | Digital Special Collections
, accessed May 24, 2019,
http://lbry-web-007.amnh.org/digital/index.php/items/show/90723
.
Woolly mammoth and hunter, painting by Charles Knight, 1909
1 painting: oil on canvas ; 62 x 92 cm. In wooden frame, 70 x 101 x 4 cm. Signed and dated at lower left. Side view of a woolly mammoth in foreground standing on the bank of a river or lake, with three others in far background and a hunter behind it, hiding behind rocks.
Czerkas, S.M. and Glut, D.F. Dinosaurs, mammoths, and cavemen: the art of Charles R. Knight. New York: Dutton, 1982. p. 65
Osborn, H.F. Proboscidea, 1936-1942. vol. 2, p. 1116
American Museum of Natural History Library
Information on rights available at the repository.
Knight, Charles Robert, 1874-1953
American Museum of Natural History