Hebomia leucippe, Rosema deolis, with other moths and butterflies from Cramer's De uitlandsche kapellen, voorkomende in de drie waerld-deelen Asia, Africa en America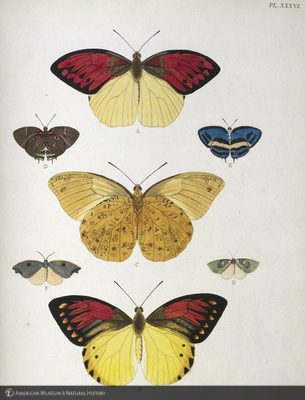 Collection
Citation
"Hebomia leucippe, Rosema deolis, with other moths and butterflies from Cramer's De uitlandsche kapellen, voorkomende in de drie waerld-deelen Asia, Africa en America,"
Research Library | Digital Special Collections
, accessed March 19, 2018,
http://lbry-web-007.amnh.org/digital/items/show/18673
.
Title
Hebomia leucippe, Rosema deolis, with other moths and butterflies from Cramer's De uitlandsche kapellen, voorkomende in de drie waerld-deelen Asia, Africa en America
Coverage
Indonesia
Suriname
Subject
Publisher
American Museum of Natural History Research Library
Rights
Information on rights available at the repository
Original Photographer
Finnin, Denis
Artist
Wartenaar, Gerrit, 1747-1803
Department / Discipline
Collection Name
Rare Book Collection
Note
Natural Histories: Extraordinary Rare Book Selections from the American Museum of Natural History Library
A-C. Hebomia leucippe
F. Rosema deolis
Repository
American Museum of Natural History
Imprint
Amsteldam : Chez S.J. Baalde [etc.], 1779-1782
Date of Publication
1779-1782
Description of Publication
4 v., 400 leaves of plates : col ill. ; 31 cm.