Stomias boa and other fish from Risso's Histoire naturelle des principales productions de l'Europe méridionale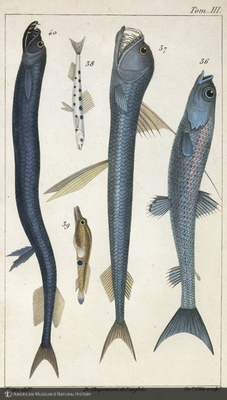 Collection
Citation
"Stomias boa and other fish from Risso's Histoire naturelle des principales productions de l'Europe méridionale,"
Research Library | Digital Special Collections
, accessed March 19, 2018,
http://lbry-web-007.amnh.org/digital/items/show/18682
.
Title
Stomias boa and other fish from Risso's Histoire naturelle des principales productions de l'Europe méridionale
Coverage
Nice, Alpes-Maritimes, Provence-Alpes-Côte d'Azur, France
Subject
Publisher
American Museum of Natural History Research Library
Rights
Information on rights available at the repository
Original Photographer
Finnin, Denis
Artist
Pretre, J. G. (Jean Gabriel), b. 1769
Department / Discipline
Collection Name
Rare Book Collection
Note
Natural Histories: Extraordinary Rare Book Selections from the American Museum of Natural History Library
Repository
American Museum of Natural History
Imprint
A Paris : Chez F.-G. Levrault, 1826
Description of Publication
5 v. : ill., maps, port. ; 22 cm.