Book cover depicting various groups of people in a wheel of time from Sears' An illustrated description of the Russian empire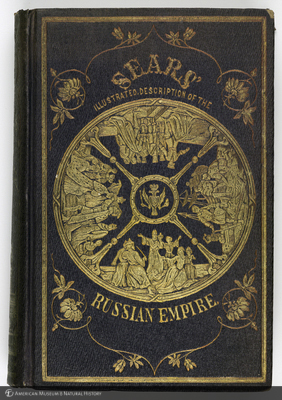 Collection
Citation
"Book cover depicting various groups of people in a wheel of time from Sears' An illustrated description of the Russian empire,"
Research Library | Digital Special Collections
, accessed February 24, 2018,
http://lbry-web-007.amnh.org/digital/items/show/18687
.
Title
Book cover depicting various groups of people in a wheel of time from Sears' An illustrated description of the Russian empire
Publisher
American Museum of Natural History Research Library
Rights
Information on rights available at the repository
Original Photographer
Finnin, Denis
Cultural Context
Russians
Department / Discipline
Collection Name
Rare Book Collection
Note
Natural Histories: Extraordinary Rare Book Selections from the American Museum of Natural History Library
Gilt stamped book
Repository
American Museum of Natural History
Imprint
New York : R. Sears, 1855
Call Number
DK25 .S43 1855
Description of Publication
672 p. : incl. ill., plates, ports., map, plans., front., fold. map 24 cm.