Viverra Suricatta Buff from Schreber's Die såugthiere in Abbildungen nach der Natur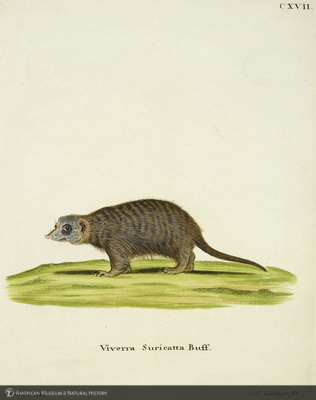 Collection
Citation
"Viverra Suricatta Buff from Schreber's Die såugthiere in Abbildungen nach der Natur ,"
Research Library | Digital Special Collections
, accessed March 19, 2018,
http://lbry-web-007.amnh.org/digital/items/show/18689
.
Title
Viverra Suricatta Buff from Schreber's Die såugthiere in Abbildungen nach der Natur
Subject
Publisher
American Museum of Natural History Research Library
Rights
Information on rights available at the repository
Original Photographer
Finnin, Denis
Artist
De Seve, Jacques Henri E
Department / Discipline
Collection Name
Rare Book Collection
Note
Natural Histories: Extraordinary Rare Book Selections from the American Museum of Natural History Library
Repository
American Museum of Natural History
Imprint
Erlangen, Expedition des Schreber'schen Säugthier- und des Esper'schen Schmetterlingswerkes [etc., 1774]-1846
Date of Publication
[1774]-1846
Description of Publication
7 v. in 8 27 cm. and 709 pl. (part col.) in 3 v. 30 cm.
Plate or Figure Number
CXVII