A Celestial Planisphere, or Map of the Heavens from Burritt's Atlas, designed to illustrate the geography of the heavens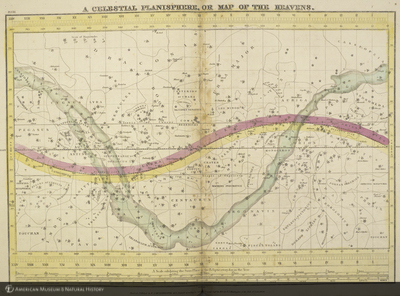 Collection
Citation
"A Celestial Planisphere, or Map of the Heavens from Burritt's Atlas, designed to illustrate the geography of the heavens,"
Research Library | Digital Special Collections
, accessed March 19, 2018,
http://lbry-web-007.amnh.org/digital/items/show/18701
.
Title
A Celestial Planisphere, or Map of the Heavens from Burritt's Atlas, designed to illustrate the geography of the heavens
Subject
Publisher
American Museum of Natural History Research Library
Rights
Information on rights available at the repository.
Original Photographer
Finnin, Denis
Department / Discipline
Collection Name
Rare Book Collection
Note
Natural Histories: Extraordinary Rare Book Selections from the American Museum of Natural History Library
Repository
American Museum of Natural History
Imprint
New York : Published by Huntington and Savage, 216 Pearl Street, c1835
Date of Publication
c1835
Description of Publication
8 leaves of plates (2 folded) : col. ill. ; 42 cm.