Carolina parrot, Canada flycatcher, hooded flycatcher, and green black capped flycatcher from Wilson's American ornithology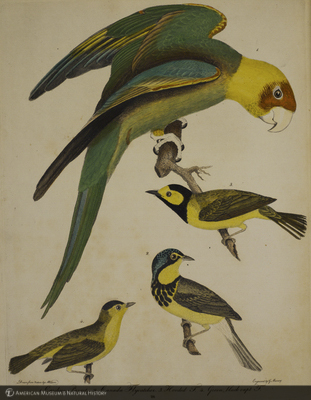 Collection
Citation
"Carolina parrot, Canada flycatcher, hooded flycatcher, and green black capped flycatcher from Wilson's American ornithology,"
Research Library | Digital Special Collections
, accessed March 19, 2018,
http://lbry-web-007.amnh.org/digital/items/show/18714
.
Title
Carolina parrot, Canada flycatcher, hooded flycatcher, and green black capped flycatcher from Wilson's American ornithology
Subject
Publisher
American Museum of Natural History Research Library
Rights
Information on rights available at the repository
Original Photographer
Finnin, Denis
Artist
Wilson, Alexander, 1766-1813
Department / Discipline
Collection Name
Rare Book Collection
Note
Natural Histories: Extraordinary Rare Book Selections from the American Museum of Natural History Library

Repository
American Museum of Natural History
Imprint
Philadelphia, Bradford and Inskeep [etc.] 1808-1825
Date of Publication
1808-1825
Description of Publication
9 v. illus., 76 col. pl. 36 cm.