Ceratophrys dorsata fem. from Wied's Abbildungen zur Naturgeschichte Brasiliens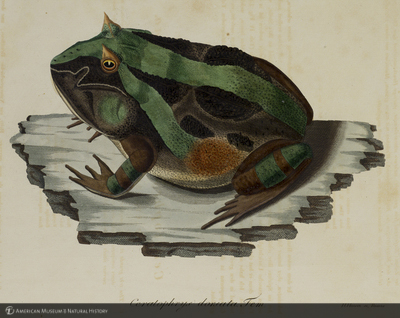 Collection
Citation
"Ceratophrys dorsata fem. from Wied's Abbildungen zur Naturgeschichte Brasiliens ,"
Research Library | Digital Special Collections
, accessed March 19, 2018,
http://lbry-web-007.amnh.org/digital/items/show/18727
.
Title
Ceratophrys dorsata fem. from Wied's Abbildungen zur Naturgeschichte Brasiliens
Medium
Hand-colored engravings
Subject
Publisher
American Museum of Natural History Research Library
Rights
Information on rights available at the repository
Original Photographer
Finnin, Denis
Department / Discipline
Collection Name
Rare Book Collection
Note
Natural Histories: Extraordinary Rare Book Selections from the American Museum of Natural History Library
Repository
American Museum of Natural History
Book Title
Imprint
Weimar : im Verlage des Grossherzogl. Sächs. priv. Landes-Industrie-Comptoirs, 1822-31
Date of Publication
1822-31
Description of Publication
ca. 200 leaves : col. ill. ; 44 cm.