Green frog dissection and skeleton from Rösel von Rosenhof's Historia naturalis ranarum nostratium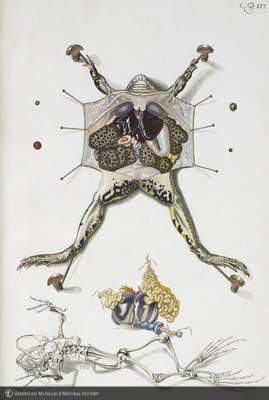 Collection
Citation
"Green frog dissection and skeleton from Rösel von Rosenhof's Historia naturalis ranarum nostratium,"
Research Library | Digital Special Collections
, accessed March 19, 2018,
http://lbry-web-007.amnh.org/digital/items/show/18740
.
Title
Green frog dissection and skeleton from Rösel von Rosenhof's Historia naturalis ranarum nostratium
Subject
Publisher
American Museum of Natural History Research Library
Rights
Information on rights available at the repository.
Original Photographer
Finnin, Denis
Department / Discipline
Collection Name
Rare Book Collection
Note
Natural Histories: Extraordinary Rare Book Selections from the American Museum of Natural History Library
Added colored engraved title page designed by Rösel and engraved by Tyroff; engraved head-pieces designed by Rösel, Preissler, Harrich, and engraved by Heuman, Tyroff, Rösel, Mechel, and Joninger; plates designed and engraved by Rösel.
Repository
American Museum of Natural History
Imprint
Nurnberg, Gedrucht bey Johann Joseph Fleischmann, 1758.
Description of Publication
viii, 115 p., 24 [i.e. 48] leaves of plates : ill. ; 48 cm.
Plate or Figure Number
XVI