Life cycles of several moths from Harris' The Aurelian, or, Natural history of English insects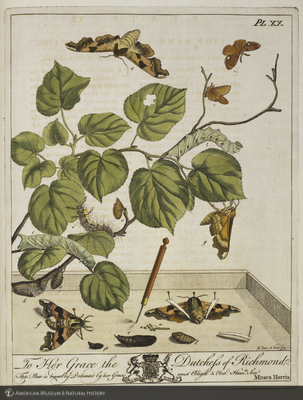 Collection
Citation
"Life cycles of several moths from Harris' The Aurelian, or, Natural history of English insects,"
Research Library | Digital Special Collections
, accessed March 19, 2018,
http://lbry-web-007.amnh.org/digital/items/show/18752
.
Title
Life cycles of several moths from Harris' The Aurelian, or, Natural history of English insects
Medium
Hand-colored engravings
Subject
Publisher
American Museum of Natural History Research Library
Rights
Information on rights available at the repository.
Original Photographer
Finnin, Denis
Artist
Harris, Moses, 1731?-1785?
Department / Discipline
Collection Name
Rare Book Collection
Note
Natural Histories: Extraordinary Rare Book Selections from the American Museum of Natural History Library
Repository
American Museum of Natural History
Imprint
London : Printed for the Author, 1766, and with great additions, for J. Robson, 1778.
Description of Publication
xv, 86 p. col. plates 45 cm.
Plate or Figure Number
PL. XX