Solar eclipse as seen from Lompoc, California, 1923, center panel in triptych, The three solar eclipses seen in the United States in 1918, 1923, and 1925, by Howard Russell Butler, 1925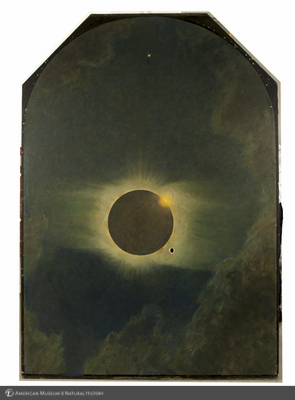 Collection
Citation
"Solar eclipse as seen from Lompoc, California, 1923, center panel in triptych, The three solar eclipses seen in the United States in 1918, 1923, and 1925, by Howard Russell Butler, 1925,"
Research Library | Digital Special Collections
, accessed October 21, 2017,
http://lbry-web-007.amnh.org/digital/items/show/24699
.
Title
Solar eclipse as seen from Lompoc, California, 1923, center panel in triptych, The three solar eclipses seen in the United States in 1918, 1923, and 1925, by Howard Russell Butler, 1925
Subject
Publisher
American Museum of Natural History Library
Rights
Information on rights available at the repository.
Original Photographer
Finnin, Denis
Artist
Butler, Howard Russell, 1856-1934
Department / Discipline
Permanent Hall
Collection Name
Photographic Collection
Note
Oil on masonite
Panel sizes: left panel: 248 x 173 cm. (97.5 x 68 in.); center panel: 241 x 170 cm. (95 x 67 in.); right panel: 234 x 165 cm. (92 x 65 in.)
The left panel depicts the June 8, 1918, eclipse as seen in Baker, Or.; the center panel depicts the Sept. 10, 1923, eclipse as seen in Lompoc, Calif.; the right panel depicts the Jan. 24, 1925, eclipse as seen in Middletown, Ct.
Repository
American Museum of Natural History