Roy Chapman Andrews and George Olsen at nest of "the even dozen dinosaur eggs," Third Asiatic Expedition, Mongolia, 1925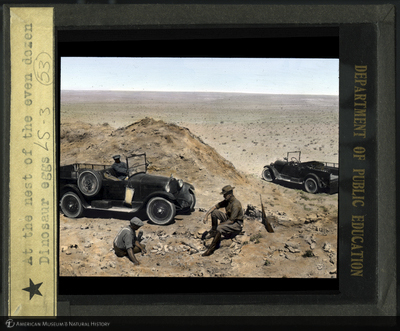 Collection
Citation
"Roy Chapman Andrews and George Olsen at nest of "the even dozen dinosaur eggs," Third Asiatic Expedition, Mongolia, 1925,"
AMNH Digital Special Collections
, accessed January 17, 2017,
http://lbry-web-007.amnh.org/digital/item/LS3-53
.
Title
Roy Chapman Andrews and George Olsen at nest of "the even dozen dinosaur eggs," Third Asiatic Expedition, Mongolia, 1925
Medium
Lantern slides -- Color
Subject
Publisher
American Museum of Natural History Library
Rights
Information on rights available at the repository.
Original Photographer
Shackelford, James B.
Associated Name
Andrews, Roy Chapman, 1884-1960
Olsen, George, 1874-1939
Department / Discipline
Collection Name
Lantern Slides
Note
Box label reads: Roy Chapman Andrews / Third Asiatic Expedition (USDE #506)
Repository
American Museum of Natural History