Lifting salmon on the endless chain elevator from a fishing boat into the cannery at Alert Bay. Looking northward showing the [Kwakwaka'wakw] village in the distance, British Columbia, July, 1909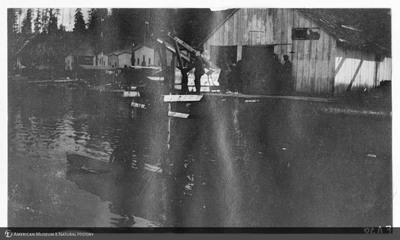 Citation
"Lifting salmon on the endless chain elevator from a fishing boat into the cannery at Alert Bay. Looking northward showing the [Kwakwaka'wakw] village in the distance, British Columbia, July, 1909,"
AMNH Research Library | Digital Special Collections
, accessed May 22, 2019,
http://lbry-web-007.amnh.org/digital/items/show/80502
.
Lifting salmon on the endless chain elevator from a fishing boat into the cannery at Alert Bay. Looking northward showing the [Kwakwaka'wakw] village in the distance, British Columbia, July, 1909
Alert Bay, British Columbia, Canada
American Museum of Natural History Library
Information on rights available at the repository.
Smith, Harlan Ingersoll, 1872-1940
American Museum of Natural History
Photographic Print Collection