Black bear, specimen measurement chart for Florida Black Bear Group, Hall of North American Mammals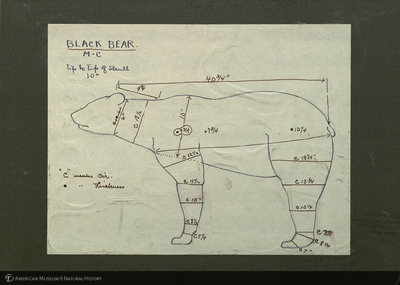 Collection
Citation
"Black bear, specimen measurement chart for Florida Black Bear Group, Hall of North American Mammals,"
Research Library | Digital Special Collections
, accessed November 19, 2018,
http://lbry-web-007.amnh.org/digital/items/show/8102
.
Black bear, specimen measurement chart for Florida Black Bear Group, Hall of North American Mammals
North and Central America
Information on rights available at the repository
Clark, James L. (James Lippitt), 1883-1969
This item contains a specimen measurement chart of a black bear in left profile view.
Black Bear; M.C.; Tip to tip of skull 10"; "C" means cir.; "." means thickness; stamped: "James L. Clark American Museum of Natural History New York"
Nature, Knowledge and the Knower: James L. Clark Archives and the Creation of Habitat Dioramas at the American Museum of Natural History, a web project created in partial fulfillment of the requirements for a master's degree in Critical Curatorial Studies at the University of British Columbia, October 28, 2011 to January 14, 2012