Proposed design, Florida Black Bear Group, painting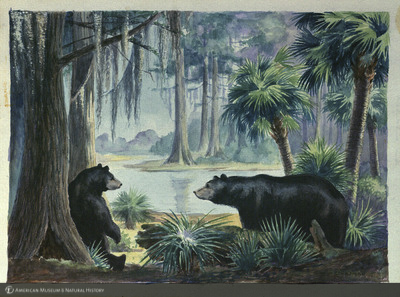 Collection
Citation
"Proposed design, Florida Black Bear Group, painting,"
Research Library | Digital Special Collections
, accessed January 16, 2019,
http://lbry-web-007.amnh.org/digital/items/show/8249
.
Proposed design, Florida Black Bear Group, painting
Information on rights available at the repository
This item is a painting that depicts two black bears in a wooded area next to a body of water. The trees and surrounding shrub are shaped like palm tree, indicating a warm weather environment.
Nature, Knowledge and the Knower: James L. Clark Archives and the Creation of Habitat Dioramas at the American Museum of Natural History, a web project created in partial fulfillment of the requirements for a master's degree in Critical Curatorial Studies at the University of British Columbia, October 28, 2011 to January 14, 2012
Item Relations
This item has no relations.