Dimetrodon and Edaphosaurus, painting by Charles Knight, 1897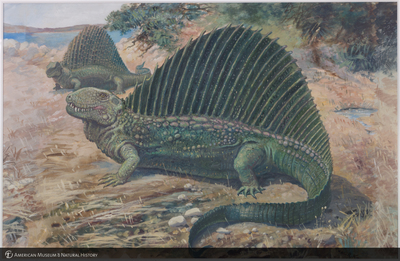 Collection
Citation
"Dimetrodon and Edaphosaurus, painting by Charles Knight, 1897,"
AMNH Research Library | Digital Special Collections
, accessed May 24, 2019,
http://lbry-web-007.amnh.org/digital/items/show/90716
.
Dimetrodon and Edaphosaurus, painting by Charles Knight, 1897
1 watercolor : Watercolor, tempera ; 16 7/8 x 25 7/8 in. After discussions with Cope - one is carnivore and the other a herbivore. Paper laid on press board. Two reptiles with sail backs, bay on upper left, vegetation on either side. Wrapped in plastic. Condition: Fair (2).
Czerkas, S.M. and Glut, D.F. 1982. Dinosaurs, mammoths, and cavemen: the art of Charles R. Knight. New York: Dutton. p. 41.
American Museum of Natural History Library
Information on rights available at the repository.
Knight, Charles Robert, 1874-1953
American Museum of Natural History