Diplodocus, painting by Charles Knight, 1905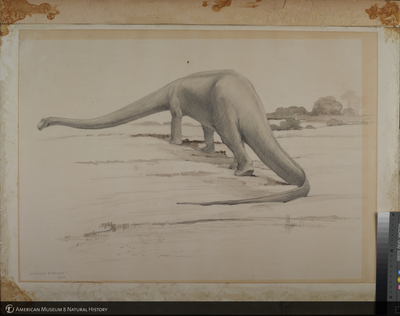 Collection
Citation
"Diplodocus, painting by Charles Knight, 1905,"
AMNH Research Library | Digital Special Collections
, accessed May 24, 2019,
http://lbry-web-007.amnh.org/digital/items/show/90720
.
Diplodocus, painting by Charles Knight, 1905
1 drawing : pencil and ink wash on paper ; 46 x 65 cm. In wooden frame, 67 x 85 x 4 cm. Signed and dated at lower left. Monochromatic depiction of a large, long-necked dinosaur with long tail walking away; in three-quarter view.
American Museum of Natural History Library
Information on rights available at the repository.
Knight, Charles Robert, 1874-1953
American Museum of Natural History