Orohippus, painting by Charles Knight, 1896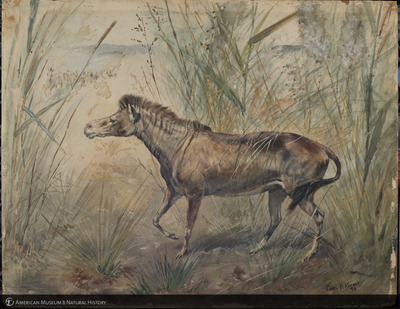 Collection
Citation
"Orohippus, painting by Charles Knight, 1896,"
AMNH Research Library | Digital Special Collections
, accessed May 24, 2019,
http://lbry-web-007.amnh.org/digital/items/show/90722
.
Orohippus, painting by Charles Knight, 1896
1 painting : watercolor on paper ; 51 x 63 cm. In wooden frame, 62 x 84 x 4 cm. Signed and dated "96" at lower right. Side view of an Orohippus (mountain horse), an Eocene zebra/horse-like equid standing in center, surrounded by vegetation, with herd of similar animals in background at upper left.
American Museum of Natural History Library
Information on rights available at the repository.
Knight, Charles Robert, 1874-1953
American Museum of Natural History