Nature, Knowledge and the Knower
Nature, Knowledge and the Knower: James L. Clark Archives and the Creation of Habitat Dioramas at the American Museum of Natural History, is a web project created in partial fulfillment of the requirements for a master's degree in Critical Curatorial Studies at the University of British Columbia, October 28, 2011 to January 14, 2012.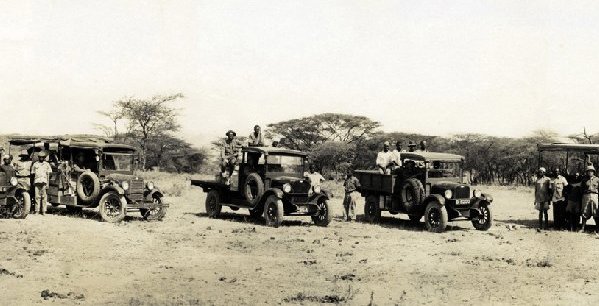 Motor Safari photograph by Carl Akeley, Kenyan desert photograph by Alfred J. Klein.
ABOUT THIS EXHIBITION
This online exhibition consists of material from the James Clark Archives at the American Museum of Natural History's (AMNH) Special Collections. Over 400 archival items were scanned and catalogued to give visitors a thorough overview of Clark's contributions to the making of dioramas at the Museum. The exhibition is also meant to make the visitors aware of affinities between the Clark method of image collection and contemporary technologies of digital image archives and the internet.
Using image archive technology, this exhibition brings together materials that are normally kept seperate. The internet-based archive shows how different observations of nature by different artists using different systems of measurement contributed to the successful creation of realistic models of nature at the Museum.
To provide viewers with further information about the exhibition content, the curator has described each archival item in a paragraph of text. The genuine text content of each item, handwritten or typed, has also been transcribed and added separately to the records.
Each item in the exhibition has been catalogued on the basis of the Museum library's standard. Metadata for items include many fields, each of which can be sorted seperately using the advanced search. These categories, available as a pull down menu in Advanced Search will allow for easy and quick access to the material. The search categories contain all of the AMNH main cataloging elements as well as special categories added to the catalogue based on the curatorial premises of the exhibition.
Credits
Curated by Mohammad Salemy with support from the Killy Foundation and the Audain Endowment for Curatorial Studies through the Department of Art History, Visual Art and Theory in collaboration with the Morris and Helen Belkin Art Gallery at The University of British Columbia.