Alaska brown bear, specimen measurement chart for use in Alaska Brown Bear Group, Hall of North American Mammals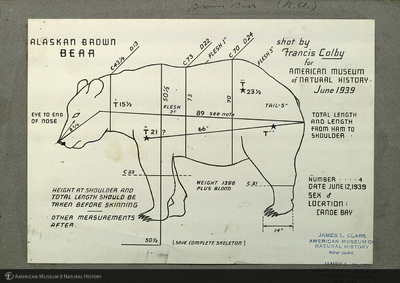 Collection
Citation
"Alaska brown bear, specimen measurement chart for use in Alaska Brown Bear Group, Hall of North American Mammals,"
Research Library | Digital Special Collections
, accessed March 21, 2019,
http://lbry-web-007.amnh.org/digital/items/show/8100
.
Alaska brown bear, specimen measurement chart for use in Alaska Brown Bear Group, Hall of North American Mammals
Canoe Bay -- Aleutians East -- Alaska -- United States
American Museum of Natural History Research Library
Information on rights available at the repository
Clark, James L. (James Lippitt), 1883-1969
Nature, Knowledge and the Knower
American Museum of Natural History
This item contains a specimen measurement chart for a bear in left profile view. A series of straight lines cut across the bear's body, prompting for measurements of length, circumference, and thickness at various parts of the body. The bear image, lines, measurements, and notes are all printed in black and white.
Brown Bear (N.A.); Alaskan Brown Bear; Shot by Francis Colby for American Museum of Natural History, June 1939; Total length and length from ham to shoulder; Number: 4; Date: June 12, 1939; Sex: Male; Location: Canoe Bay; Weight 1396 plus blood; (Save complete skeleton); Height at shoulder and total length should be taken before skinning - other measurements after; Eye to end of nose; stamped: "James L. Clark American Museum of Natural History"
Nature, Knowledge and the Knower: James L. Clark Archives and the Creation of Habitat Dioramas at the American Museum of Natural History, a web project created in partial fulfillment of the requirements for a master's degree in Critical Curatorial Studies at the University of British Columbia, October 28, 2011 to January 14, 2012